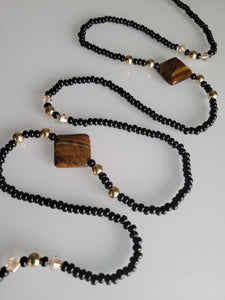 Beautifully crafted with black Czech beads, 14k gold filled beads, Swarovski crystals, and organic tiger eye stones.
Tigers Eye:
Spiritual:  Makes a powerful protection amulet.  Wards off evil spirits entities and protects against psychic attacks.  Amplifies energy of other crystals.  Enhances masculine energies.  Channels the Gold Ray.
Emotional:  Allows for manifestation of creative ideas and promotes inspiration for new ventures.
Physical: Aids in digestions, promotes virility in men, integrates the brain hemispheres to work together.